Choosing the Right Pod For You
Roar Gill chose a Home Compostable coffee pod. Here's why:
70% of coffee pods are never recycled. They take up to 500 years to break down. Our pods take weeks, in your garden compost. Each pod comes with the official certification so you can easily tell which ones are home compostable and which ones aren't.
How Our Pods Perform
Labels like "Compostable" and "Biodegradable" are often misused – some pods require special machines to break them down. Without using industrial machinery, these pods can take years to biodegrade.

Our pods are natural material derived from 100% biobased cellulose and vegetal oils. No aluminium. No fossil plastics [...even the label].

Our Pods are certified to break down in 26 weeks at only 15°C – the fastest certified coffee pod.

A market leading oxygen barrier means your coffee will stay air tight and perfectly fresh.
See Ways to Dispose
Why We Avoided Cheaper Materials
Aluminium ❌

Nespresso's own figures show only around 30% are ever recycled. Most companies or recycling schemes don't publish figures.

Industrial Compostable ❌

Made from renewable bioplastics – but often waste management facilities don't have the machines to process them. Look for the certification to know the difference.

Paper Pods ❌

Lots of miles are travelled to bring sugar cane to Europe – the pods expand and get stuck in the machines. They aren't air-tight so the coffee goes stale quickly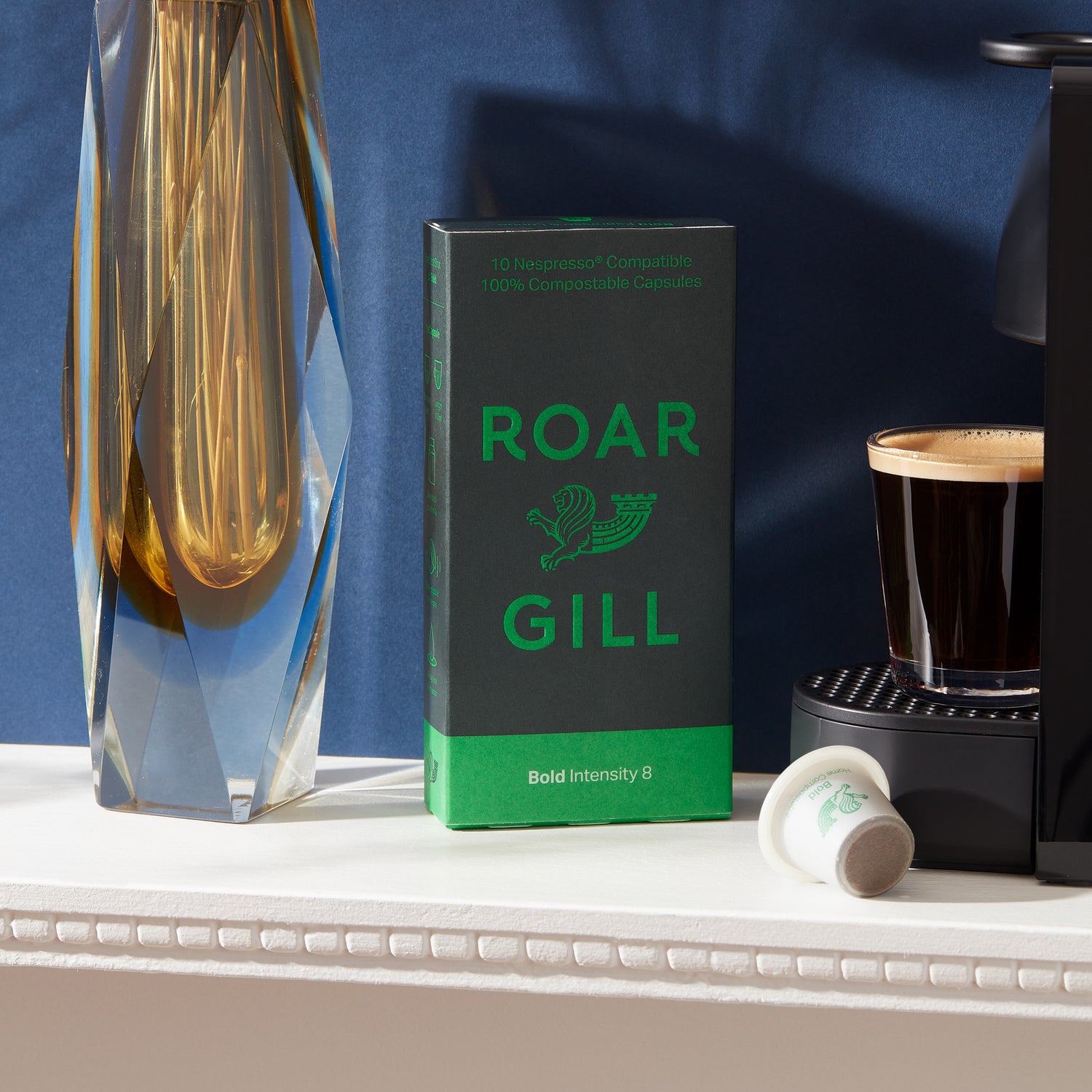 Going Further Than Just the Pod
Home Compostability isn't the only part of the Roar Gill pod story. Here are our other sustainability principles:

We are officially certified with CO2 neutral roasting processes;

We apply a carbon neutral approach to capsule production;

We only use recyclable packaging materials.

Every delivery to you is offset by high-quality carbon removal projects to neutralise your shipping footprint.